Welcome to our new island dentist
We would like to welcome our new dentist and his family to the islands.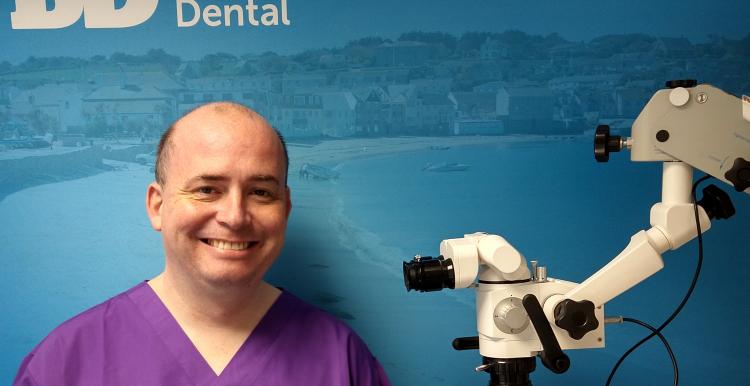 Hello Isles of Scilly, I'm Mike and I'm your new Island Dentist.
My family and I arrived on the beautiful island of St Mary's last Monday 2nd November, managing to get across just before the latest Covid19 lockdown measures came into place across England.
I'm here with my wife Helen and two sons Ted and Isaac who will be attending the Five Islands Academy, plus two kittens (Odin and Dotty) and our Shih tzu (Scoobie). As a family we are thrilled to be here and super keen to integrate into Island life and enjoy all that the Scillies can offer.
I have a broad dental skill set which I feel uniquely equips me to help you all maintain and improve your oral health. I recently retired from Military dental practice as a Major in the Royal Army Dental Corps and during my twenty years' service looked after the dental health of service personal and their families both in the UK and beyond. I've also worked within the NHS and in private dental practice, helping my patients make the most of their smiles.
I hold a Masters Degree in Endodontics (caring for the insides of teeth), a Postgraduate Diploma in Implant Dentistry and Postgraduate Certificate in Dental Education. In addition to these I have attended multiple advanced dental courses in the UK and Europe which have developed my prevention and oral health education focussed philosophy of care - hopefully more "talking teeth" than "drilling teeth"!
I am looking forward to building upon Gill's previous hard work in ensuring our children's dental health remains excellent but am keen to engage with everyone regardless of age or when you last visited the dentist! I've arrived here with a dental operating microscope (yet to be named - competition looming…) which was shipped across from the mainland by Richard Hand Haulage (thanks guys)! This will allow me to undertake a full range of complex treatments, on site, in the Scillies.
Alongside Ellie I'm committed to delivering the high quality NHS and private dental care you deserve. I'm a very friendly, gentle and safe pair of hands and am looking forward to meeting you all, both in and out of the dental practice, over the years to come. Starting on Monday 9th November 2020!