Isles of Scilly Health and Care Community Survey Report 2019
We are pleased to announce that the final report has now been written.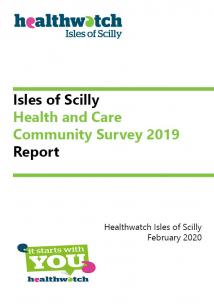 We would like to say a big 'Thank You' to the community for completing and returning the 2019 Health and Care Community Survey. Gathering the data from the returned surveys and writing the report has been an important activity for us over the last couple of months. The ratings for each service and all of the written comments were carefully looked at and recorded.
Your voice is very important to us and it has been great to be able to share the positive comments with the service providers and for them to know what they are doing is working. Where relevant, they were notified of your concerns. They were then given the opportunity to provide a response if they wished. It was great to see that many of them responded to the issues that you raised and are now looking to improve their provision; we would like to say 'thank you' to those service providers who did respond.  At the time of going to press, not everyone had responded and any late responses will be added to our website.
A printed copy of the report can be picked up from the Healthwatch office.
Health and Care Community Survey 2019 Report