Healthwatch Isles of Scilly Annual Report 2021-2022
Read our annual report for 2021-22 and find out what we have been up to.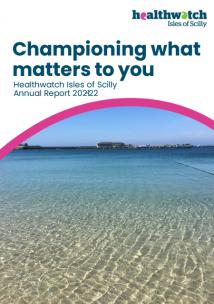 Highlights from our year included:
Our 2021 Biennial health and care survey:
We reached out to 937 households & asked people about their health & care experiences.
People shared their stories with us and we gave out advice and information to 96 members of the community.
We collaborated with RCHT and are working with them to  enable patients to access medical appointments remotely.